Bookmark This!
Close

 
Bookmark and Share This Page
  Link HTML: 
 Permalink: 
If you like this then please subscribe to the RSS Feed or .
December 29, 2009
Source:
Amid continuing antigovernment protests in Iran and a harsh crackdown by the authorities, U.S. Senator Joseph Lieberman (Independent, Connecticut) spoke to RFE/RL's Radio Farda correspondent Hossein Aryan about Washington's next foreign policy moves vis-à-vis Tehran. Lieberman said the U.S. Senate will take up an Iran sanctions bill at its next session in January and will press U.S. President Barack Obama to tighten the screws on Tehran.
RFE/RL: You and eight other Senators introduced a Senate resolution about recent events in Iran which was passed unanimously on December 22. What are the main aims of this resolution, and what message do you intend to give to the Iranian regime?

Senator Joseph Lieberman: This resolution which you mention passed unanimously — without a single senator of any party opposing it. [This] was our way of trying to say to the people of Iran, to the people of the Green Movement: we are with you, we see you, we hear you, we stand with you in your quest for freedom because this is fundamental to what it takes to be an American. It goes back to our own Declaration of Independence, and the first sentences that our founders in the 18th century wrote, which is that there is a truth in human events [that] every person is endowed by our creator, by God, with certain unalienable rights: the right to life, liberty, and the pursuit of happiness. And that is what the people of Iran are seeking in their protests against the regime that currently rules Iran.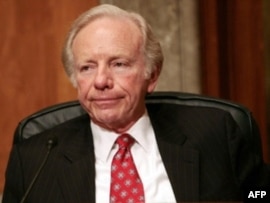 U.S. Senator Joseph Lieberman

So I think most importantly we wanted to speak with one strong clear voice to say to the people of Iran that we are with you. [We] have gone through a difficult time in the last 30 years when the regime in Tehran has separated us from our natural allies, which are the people of Iran. So we are hopeful that we can be helpful. Obviously what happens in Iran depends on the Iranian people. But the American people, and our government now, want to be as supportive as we can possibly be.

RFE/RL: In introducing the resolution, you and other senators also urged the implementation of the VOICE Act, which was signed into law this year and provides funds to support technologies that allow Iranians to bypass Internet and mobile phone censorship. Will this act be implemented soon, in view of the political turmoil and increasing violence in Iran?
Lieberman: Yes. Let me say briefly I was proud to be a co-sponsor of the [bipartisan] VOICE Act. And the VOICE Act recognizes the remarkable ways in which modern technology can support a people who have the courage to stand up against a dictatorial and brutal regime, as we have seen in the last few days in the streets of Iran, with people being beaten and killed.
But classically dictatorial regimes have tried to cut off their people from communication with each other and the rest of the world. [Now] the existence of the Internet and Facebook, of Twitter and YouTube, [of] cell phones and Blackberries has enabled people in Iran to communicate with one another. The government has tried to block that, [and this] is our way of putting some American money into technological support so that the people of Iran, seeking their freedom, against this dictatorial regime, can essentially evade the attempts by that regime to block their ability to speak to one another.
I think as the regime in Tehran becomes more brutal, more murderous against the people, any hesitation that I fear has existed in some quarters of the American government to be openly and aggressively supportive of the people of Iran is [fading].
I can tell you that as one United States senator, I know that I and my colleagues will be pushing the State Department [and] the Obama administration to rapidly implement the provisions of the VOICE Act and other measures that can be supportive of the people of Iran as they seek their freedom.
RFE/RL: In regard to the nuclear issue, the United States warned Iran that the end of December was the deadline to respond to the International Atomic Energy Agency's proposal, after President Mahmud Ahmadinejad dismissed an international ultimatum over his nuclear program. Now we have reached the end of the year, and Iran continues its enrichment program, and intends to establish more enrichment centers, as President Ahmadinejad said. What will be the next move of the P5+1 countries considering that Russia and China are not in favor of more sanctions on Iran?
Lieberman: This is a very important question because we are at two turning points with regard to Iran. One was expected and one was not. The first is the turning point that results from the fact that the Iranian government, the regime, has not responded to the open hand that President Obama extended to it. In fact, it continues to respond with a clenched fist to America and the rest of the world with regard to the Iranian nuclear program, and now we are coming up to President [Obama's] deadline at the end of this year this week.
I know it's clear that the president has lost patience, and will now work very hard for economic sanctions against the regime and against the leaders of the regime in Tehran, and hopefully there will be support from the P5+1. It appears that China and Russia are moving toward being more supportive than they have traditionally been. But, frankly, if China and Russia are not supportive, the United States will go ahead with our European allies — I am confident — to impose such sanctions. I regret it, but it is what the government in Tehran has brought on itself by its failure to engage and to respond to President Obama's initiatives.
The second turning point is the unexpected one, which is the remarkable, inspiring [and] brave protests by the Green Movement and the people of Iran against this regime. Frankly, it creates such a moment of unsettled government in Iran that it's hard to imagine that it would even be possible to reach an agreement with Iran right now, and it's a time to be very cautious.
I for one believe in engagement with Iran, but I think that engagement cannot be used as a way to evade or delay sanctions. [In] the sanctions bill that the United States Senate will take up in January, there are not only the [economic sanctions] related to the failure of the Iranian government to do anything to engage the U.S. on the nuclear matter, but I want to assure the people of Iran that there is a very strong statement by the Senate on human rights.
…I want to just read to you from [the bill where] we urge President [Obama] to identify the specific individuals who have been responsible for committing human rights abuses in Iran and freeze any assets they have in the United States. It also urges the secretary of state to document and disseminate information about the abuses committed since the June 12 election.
I'm reading from the Senate resolution which we will be taken up in January: "[The American people] have a long history of friendship and exchange with the people of Iran. We regret that developments in recent decades have created impediments to that friendship, that we hold the people of Iran, their culture, and their ancient and rich history in the highest esteem, and we remain deeply concerned about continuing human rights abuses in Iran."
And then we go on to ask President Obama to press the Iranian government to stop this brutal, dictatorial behavior, and take measures against people the president identifies as being responsible for human rights violations against the people of Iran, including freezing assets of those individuals, and it goes on from there.
So I wanted to point out to you that the economic sanctions legislation that the U.S. will consider in January will not simply be a reaction to the failure of the Iranian government to negotiate in good faith on the nuclear program. It will also be a specific empowerment to the president and the secretary of state to take action against the current Iranian leadership because of its human rights abuses. I hope this gives encouragement to the brave people of Iran as they strive to achieve the freedom to which they are entitled by their birth, by their existence as human beings, as children of God.

RFE/RL: Senator, I sensed you were hopeful that China and Russia would cooperate with the United States. But if not, would the United States impose unilateral sanctions on Iran such as the Iran Refined Petroleum Sanctions Act of 2009 put forward by Senator Evan Bayh and other senators?
Lieberman: My own feeling is that President Obama will try very hard to engage China and Russia in the application of economic sanctions against the Iranian government, because that is the most powerful way to do it. If for some reason China and Russia do not cooperate, then this legislation will authorize President Obama to apply unilateral sanctions, including with regard to refined petroleum gasoline.
And I would say that at this moment the people of America will essentially demand that our government take some action. I don't know if the people of Iran really appreciate how much what is happening on the streets in Iran today is on the front page of every newspaper in America, [is] being focused on in television and radio broadcasts in America. The American people have now broken through this feeling of decades that Iran was America's enemy because we are now connecting with the people of Iran. And what I'm saying is that the people of America will press the president of America to stand with the people of Iran.

RFE/RL: We know the House version of the sanctions bill was passed on December the 15th, so do you think the Senate will now approve it?
Lieberman: Yes. I was hoping — and a few of us were working — to adopt the Senate bill even before we broke for the holidays here. But it was not possible because of our focus on health care reform. The Senate comes back into session on January 19th and there is a group of us from both parties that are working to have the Iran sanctions bill come up right away that week, so I hope we can make that happen. It would go to a conference committee with our colleagues in the House to reconcile any differences between the two bills, and then right to the president.
So I hope that soon, very soon — hopefully by the end of January — this will become American law. But before then I assure you and I assure the people of the Green Movement and the people of Iran that we are watching, we are hearing, we are with you. And we deeply admire your bravery. We will do everything we can to support you in your fight for freedom as we have supported other people throughout the world over the decades in their fight for freedom against dictatorship.